What you will find in this text:
Silicon Valley in sunny Northern California. Home to the headquarters of some of the world's largest technology companies, such as Google, Facebook and...
"The Spaceship"?
That's right, this is the aptly futuristic nickname for Apple's headquarters, which succeeded their workspace at 1 Infinite Loop in 2017. The Cupertino building is said to be worth upwards of $5 billion and was designed by 'high-tech' British architect Norman Foster.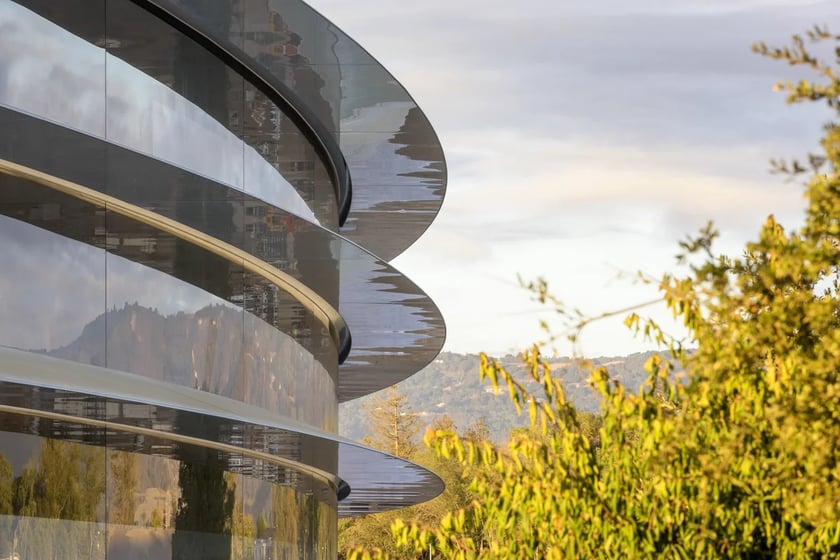 Apple Park windows and curves next to trees
Fun fact: Norman Foster is famous for buildings like the "Gherkin" in London and the Reichstag Building in Berlin.
Described by its designers as "Californian in spirit", Steve Jobs, the visionary cofounder of Apple, wanted the headquarters to feel and look more like a nature refuge than a business park.
Take a deeper dive into the distinctive ring form of the main facility:
It covers 360 acres of land;

It fit 12,000 employees;

It is made up of 80 percent green space;

It has over 9,000 trees planted on site, many of them indigenous to the region;

Its winding paths of fruit trees allow Apple employees to roam around…as if in a California fruit orchard.
The sprawling campus of the "Spaceship" not only hosts most of Apple's employees but has also attracted tourists, who are welcomed at the Apple Park Visitor Center, and even driven up house prices in the surrounding area.
The futuristic "Spaceship" is also remarkable for the ways in which it has incorporated sustainable practices into its design. It is one the most energy-efficient buildings in the world, and the largest building in North America to be LEED platinum certified, the highest certificate possible in the LEED sustainable building rating system.
Why is this energy-efficient? Well…
Powered entirely by renewable energy, solar panels generate 17 megawatts of power on one of the largest solar roofs in the world;

The design also promotes airflow, providing natural ventilation and removing the need for HVAC systems during 9 months of the year.
The main aspects of a great workplace facility
Before delving into the workplace of the world's most valuable company, let's take a step back and look at what makes a great workplace...
Much more than a room full of desks: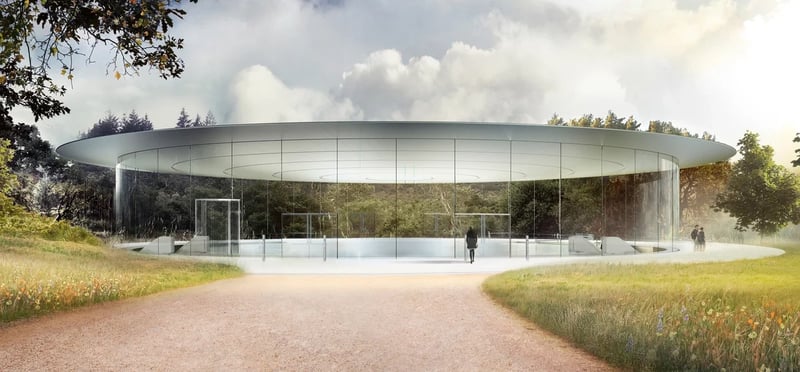 Apple Park theater
An office or workplace facility is not just there to provide employees with a chair and desk. It is also crucial in terms of cultivating a strong sense of company culture and community – it should provide an experience for its employees.
On top of this, it is a space that needs to be designed and managed so as to support both individual and collaborative work. That means space for both focused work and space that provides opportunity for collaboration.
Creating a comfortable environment for employees requires amenities like cafés, restaurants, and spaces dedicated to health and wellbeing. Transportation and related infrastructure such as parking lots are also key. An efficient and happy workforce.
The Apple Park facilities
So, what sort of facilities does the Apple Park have?
Let's turn first to the centrepiece of the facility is the auditorium, or the Steve Jobs Theatre:
Seats 1,000 spectators

Boasts the largest carbon-fibre roof and is the largest glass-supported structure in the world.
As Jonathan Ive, the former chief designer at Apple, describes:
The Steve Jobs Theatre is a place for us to gather. It provides an opportunity for our friends and visitors to experience Apple Park and, from time to time, share in the excitement of our new products. We worked incredibly hard to create a uniquely simple and beautiful environment.
This sense of community and cooperation is further enhanced through the campus' communal 'pod' spaces that are used for collaborative work, as well as seven cafés, with the largest covering three-levels and seating 3,000.
What else?
Other innovative facilities at the Apple Park include:
A 100,000 square foot wellness centre

Care clinics which provide accessible healthcare and promote healthy behaviours right in the heart of the company's workplace.


What is expected of Apple Park's maintenance and facilities professionals?
Apple Park is no ordinary workplace, so its maintenance and facilities professionals have a lot on their plate when it comes to maintaining facilities and equipment to the highest standards.
Facilities professionals at Apple must have a natural ability to multi-task, taking care of diverse aspects of the workplace environment including plumbing, carpentry and electrics.
But what makes Apple Park different from other workplaces?
With facilities like the Steve Jobs Theatre and the Apple Visitor Centre, there is also the task of coordinating hospitality and a wide range of facility events.

The Apple Park is a place of work but is also a space that is partially open to the public.
Fun fact: Because it's open to the public, professionals have to work to extremely high standards in order to promote the image of Apple as a brand, responding to emergencies and mitigating hazards.
The Apple Park is a space that is designed with community and collaboration in mind, and this is something that also applies to the ethos of its maintenance and facilities professionals.
Their job therefore also involves communicating effectively to employees and visitors, in order to convey information regarding events, closures, construction and other building impacts.





Maintenance and asset management at Apple Park
Apple and Silicon Valley more generally are international icons of technological innovation. Looking at Apple Park therefore provides crucial lessons as to how workplaces can be managed and maintained.
Managing a building complex like Apple Park is a hugely diverse operation due to the parks incredible array of facilities, and this all needs to be coordinated effectively.
Looking to learn from the lessons of the Apple Park?
The diverse operation works as well as it does because it acts on the company's values of collaboration and efficiency. Having a powerful maintenance and asset management software is therefore super important to how such a big facility keeps running smoothly.